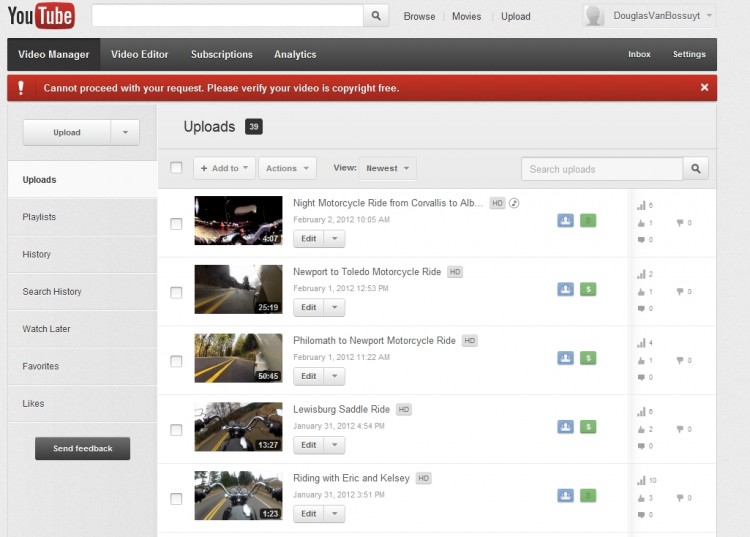 Unexplained things keep happening on YouTube.  Today I uploaded a video of a motorcycle ride I took a few days ago.  I added an audio track from YouTube's in-house selection of tracks.  I then asked for monetization on the video.  It gave me the error "Cannot proceed with your request.  Please verify your video is copyright free" as seen in the above image.  This is a new and different error than the one I saw a few days ago.
After a while, an email came from YouTube which is shown below.  The above error message mysteriously went away after several minutes with no explanation.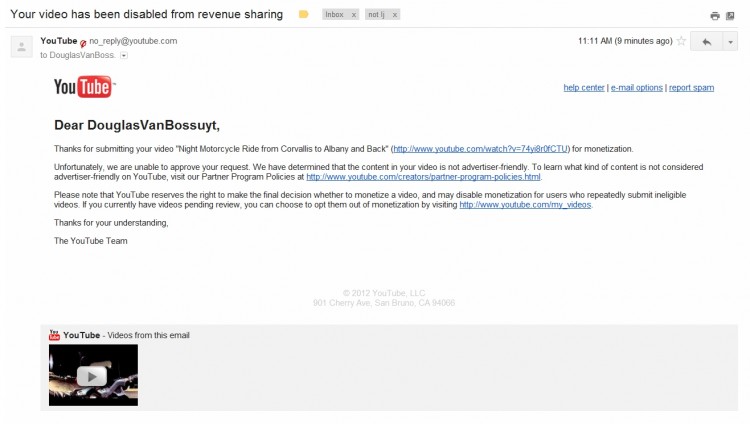 The email reads as follows:
Dear DouglasVanBossuyt,

Thanks for submitting your video "Night Motorcycle Ride from Corvallis to Albany and Back" (http://www.youtube.com/watch?v=74yi8r0fCTU) for monetization.

Unfortunately, we are unable to approve your request. We have determined that the content in your video is not advertiser-friendly. To learn what kind of content is not considered advertiser-friendly on YouTube, visit our Partner Program Policies at http://www.youtube.com/creators/partner-program-policies.html.

Please note that YouTube reserves the right to make the final decision whether to monetize a video, and may disable monetization for users who repeatedly submit ineligible videos. If you currently have videos pending review, you can choose to opt them out of monetization by visiting http://www.youtube.com/my_videos.

Thanks for your understanding,

The YouTube Team
The webpage that the email directs me to doesn't give any information which I find relevant to my situation.  Further, it seems that if the video is rejected for monetization, I have no recourse.  YouTube/Google is free to make money off of the ads that surround my video but I am not allowed to see any benefit.  For instance, notice the Barack Obama ad in the upper right portion of the below screen capture from my video's YouTube page.  I don't get any revenue from that sitting there.  It would make more sense to me to put this video on a service such as Vimeo which I have found to have superior encoding quality but which does not have ad revenue sharing (or any ads at all) than to keep it on YouTube and have annoying ads peppered around the video.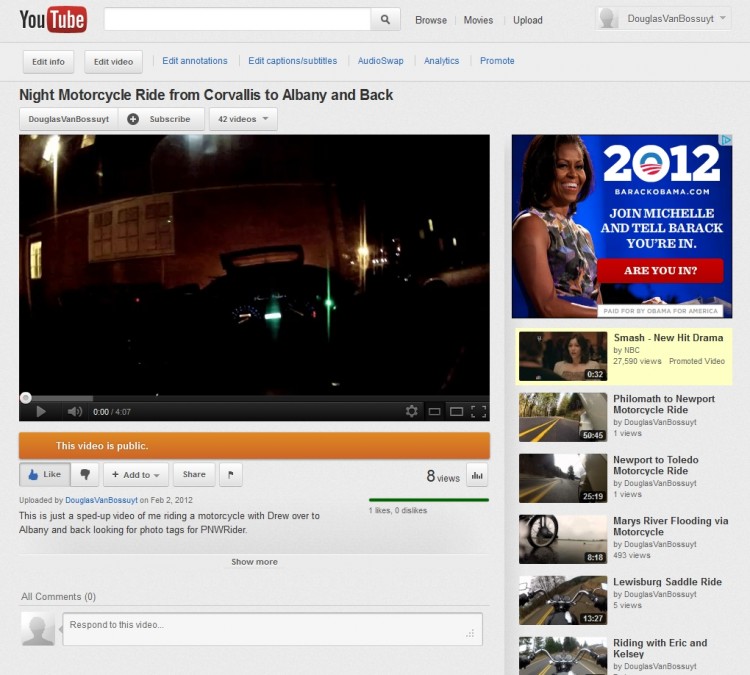 What's the deal, YouTube/Google?  Is this how you treat all of the little guys who use your service?  Why isn't there any dispute process for the decision to not allow me to share in the profits from ads?  I know that YouTube is a free service but one would think that it would be better developed than this.