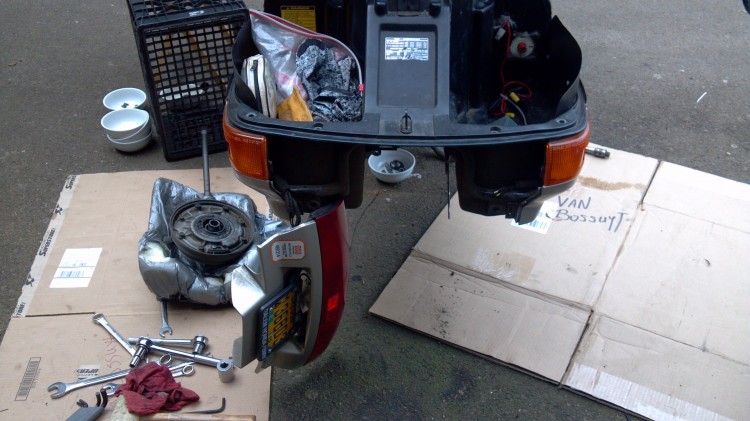 A few months ago I bought a used 2004 Honda Shadow Saber VT1100 final drive from EBay.  Check out this post for more details about which VT1100 final drives will work with the PC800.  The benefit of taller gearing was enough for me to put out the money for the part.  Here you can see that I have pulled the original final drive off of the motorcycle.  Note that to remove the rear wheel I elected to remove the brake light assembly from the trunk.  As this video shows, there are also other ways to remove the rear wheel.  That video by the way is an excellent tutorial for how to do this job.  The photos here are just a few I snapped while I did this relatively straight-forward installation.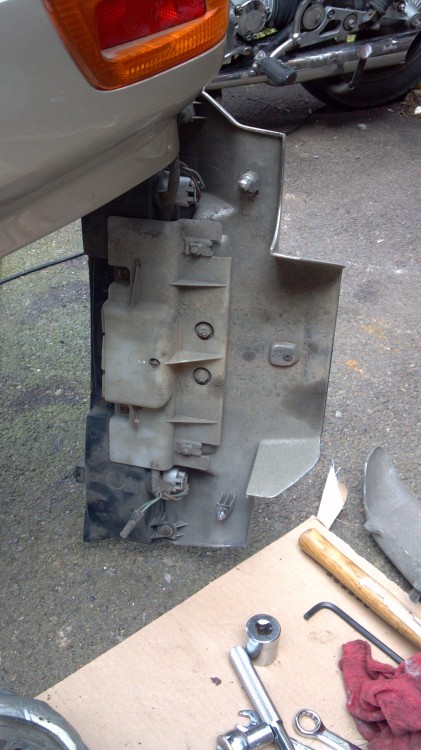 Pulling this plastic piece is very straight forward and with minimal hassle.
Here is the old final drive just before I removed the dust guard (circle of plastic that is held on by one bolt that you can see with a blue dot on it at the far right side of the final drive unit) and the spacer collar (that tube of metal at the center of the final drive).  Those pieces along with the drive shaft need to be swapped over to the replacement final drive from the VT1100.
The question now to ask is if this swap improved the performance of my PC800.  I can't say that I notice that much of a difference in around town driving but out on the highway I do notice a reduction of several hundred RPM at freeway speeds.  That will provide fuel savings over the long term.  For that reason, I think it is worth it to do this final drive swap.  I had wanted to take before and after RPM vs MPH readings of this swap but due to time constraints I wasn't able to collect the data.  Hopefully another IPCRCer will do this and provide me with the results.